Classic American Cuisine
Located on Main Street in historic downtown Grapevine, the culinary team takes great pride in serving top-quality steaks and seafood along with from-scratch recipes with artisan creativity, using the finest and freshest ingredients available.
Reservation
Welcome To The Winewood Grill
A Winewood meal is an exploration of the senses. We invite you to experience all we have to offer, like steaks made on our wood flame grill or fresh seafood that's delivered daily. With an open kitchen and private dining rooms, we're here to provide all of North Texas with a memorable dining experience.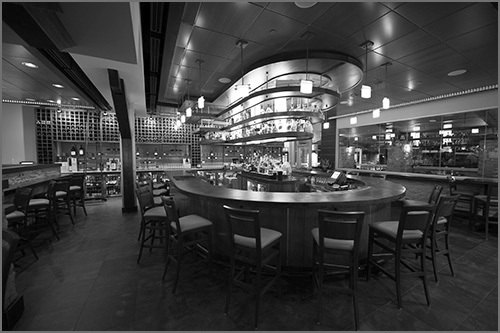 made in-house, a chocolate chip cookie baked inside a brownie muffin, topped with vanilla ice cream
jalapeno-onion crusted, served over saffron risotto & citrus cream sauce
toasted baguette with cherry tomato jam, basil pesto, arugula, grated parmesan & balsamic reduction
vanilla flavored waffle topped with bacon maple syrup and spicy fried chicken tenders

"The dining room is open and chic, and American food classics such as fancy burgers, sandwiches, and upscale preparations of chicken, fish, pork, and steak entrées fill the menu." Nancy Nichols

Community Impact Newspaper
"Winewood's linear design and décor are inspired by architect Frank Lloyd Wright: steel, stone, glass and metal. Diners can glimpse into the kitchen or outside from where they sit. " Diane S. W. Lee

"Winewood also has the comfortable grill feeling of a Hillstone or Charleston's, with a stepped-up menu that reaches for the next level."
Bud Kennedy

"Winewood is a restaurant that is as much about the space it occupies as it is about the food." Frank Geslani
Happy Hour
Weekdays 3pm-7pm
Enjoy 25% off all appetizers
$7 Specialty Cocktails
$6 House Wine
$6 Wells
$1 off all Beer
Offered at the bar only.
MON – THUR 11:00am – 10:00pm
FRI & SAT 11:00am – 11:00pm
Drop Us a Line
Don't be shy. Let us know if you have any questions!